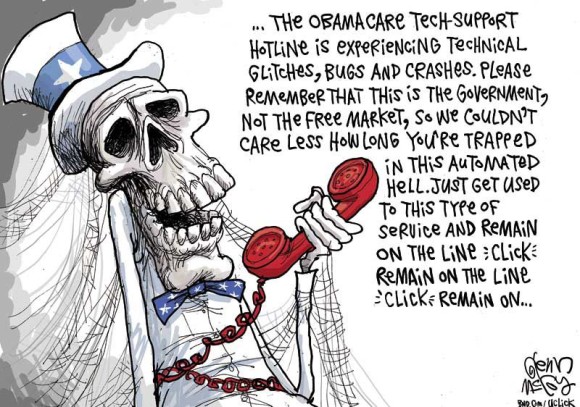 It takes talent to be this incompetent.
A woman claims she spent six weeks trying to un-enroll from her Affordable Care Act plan, after the 'terminate' button on the website failed to work.

Lesli Hill, 62, from Missouri, was sent back  and forth between operators on the Marketplace and her own health insurance  provider as she attempted to cancel her 'Obamacare' plan.

She says that despite calling the helpline, sending emails and chatting online to a helpdesk, she was unable to get off the  plan and ended up driving 100 miles to get help from her own insurance  company.

Ms Hill is part of the 'high risk' pool and  bought an Affordable Care Act policy for $950. When she found out she could get  a better deal with her previous insurance company, she wished to cancel her  plan.

'I thought it would be fairly simple, I  called my insurance provider and they informed me they couldn't cancel my  federal exchange policy and that I would have to  do that through the  exchange,' Ms Hill told FoxNews.

Ms Hill was told by an ObamaCare operator that she needed to call her insurance company, who passed her  back to the Federal Exchange.

Ms Hill claims the terminate button on  Obamacare's website did not work, and that she spent 'several hours a day' on  hold with the Health Insurance Marketplace.
Let's hope Debbie Wasserman Schultz keeps her promise that all Democrats will be running on Obamacare for the midterms.