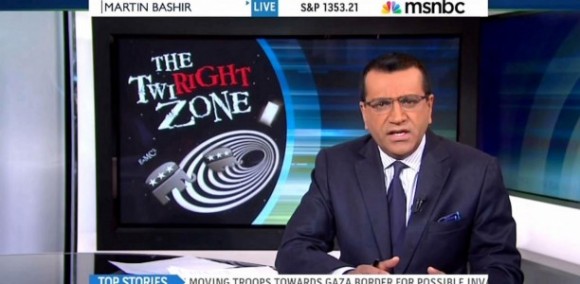 So Martin Bashir has resigned from his role at MSNBC in the wake of his comments about Sarah Palin:
Martin Bashir has resigned from MSNBC, nearly three weeks after delivering a scathing personal attack on Sarah Palin that brought him widespread condemnation.

The afternoon talk show host, a former co-anchor of "Nightline," says he decided to leave the network after meeting with MSNBC President Phil Griffin.

Bashir had already apologized for what he called "offensive" comments about the former Alaska governor, whom he also called an "idiot" and "dunce." He told viewers in a scripted commentary last month that someone should defecate in Palin's mouth. He was invoking an old slave punishment in response to a speech by Palin, a Fox News contributor, comparing the national debt to slavery.
and
"After making an on-air apology, I asked for permission to take some additional time out around the Thanksgiving holiday.

"Upon further reflection, and after meeting with the president of MSNBC, I have tendered my resignation. It is my sincere hope that all of my colleagues, at this special network, will be allowed to focus on the issues that matter without the distraction of myself or my ill-judged comments.

"I deeply regret what was said, will endeavor to work hard at making constructive contributions in the future and will always have a deep appreciation for our viewers — who are the smartest, most compassionate and discerning of all television audiences."
I'm no fan of Bashir. I happen to think he's an idiot whose accent has carried him further than his brain. I'm also not going to be all weepy the way Tommy Christopher is:
Way to have Martin's back, liberals. RT @Mediaite: Martin Bashir Resigns From MSNBC http://t.co/JWTUuvtBCd via @Mediaite

— Tommy Christopher (@tommyxtopher) December 4, 2013
That being said, I don't welcome this news and I certainly don't think it's something to be cheered.
Calling on television or radio personalities to be fired for saying something offensive is what the left does. And they do it well. Media Matters excels in the art of saying television and radio hosts should be fired. They're the ones that led the charge to get advertisers to walk away from Rush Limbaugh's show.
Before that, David Brock was trying to pressure Fox to fire Glenn Beck an Sarah Palin as he tried to blame them for the shooting of former Representative Gabrielle Giffords?
The thing to keep in mind is that conservatives have a much higher tolerance for what they consider "offensive" than the left. The left is in perpetual "outrage" mode. When Ed Schultz called Laura Ingraham a "right wing slut" he was called out for sure. But there was not this long, sustained campaign to have him taken off the air. Compare that with Rush Limbaugh referring to Sandra Fluke as a slut and the left, led by Media Matters was gunning for him.
In addition, conservatives should rise above what the left does, particularly in response to an apology. Rush apologized for what he said about Fluke but it didn't matter. They wanted him gone regardless.
Martin Bashir apologized as well. And unlike many weak "I'm sorry if I offended anybody" type of apologies, Bashir really did apologize:
"I made some comments which were deeply offensive and directed at Governor Sarah Palin. I wanted to take this opportunity to say sorry to Mrs. Palin, and to also offer an unreserved apology to her friends and family, her supporters, our viewers, and anyone who may have heard what I said. My words were wholly unacceptable. They were neither accurate, nor fair. They were unworthy of anyone who would claim to have an interest in politics, and they have brought shame upon my friends and colleagues at this network, none of whom were responsible for the things that I said."

"In the battle of ideas, America leads the world in whole-hearted discussions and disagreements," he continued, "and these arguments can be heard on a daily basis. But what I did on Friday had absolutely nothing whatsoever to do with that great tradition, and I am deeply sorry. Upon reflection, I so wish that I had been more thoughtful, more considerate, more compassionate. but I was not. And what I said is now a matter of public record."
In a civilized society, if somebody wrongs you, you apologize and you move on. Sarah Palin accepted Bashir's apology and that really should have been the end of it.
But we have come to a point where there somebody has to get their pound of flesh and this is going to be something we see all too often.
Better to take the small victory and move on.
UPDATE: To clarify, I have no issue with Bashir resigning. He was useless. My overall point is, his resignation should not be seen as a notch in somebody's belt or as some means of proclaiming some kind of "victory."