Lately I have been particularly interested in and anxious about children in the foster care system (FCS). Because I was raised in a safe environment with love and fulfilled needs, awareness of the ongoing suffering of our foster care youth was entirely obscured. I'm embarrassed and fortunate enough to admit that my interest in this issue began in the safety and comfort of my home, watching The Killing. For those of you unfamiliar with this program, the protagonist is a detective who comes from the FCS and in her work she often confronts other victims of similar circumstances.
This story is fiction of course. But the real story of the FCS is far more troubling because it is real — real for more than 400,000 young people in the United States. Individuals who have lived in the FCS are disproportionately populating our prison system, the human trafficking industry, and our streets.
In California, 14 percent of the prison population are individuals who have been in the foster care system. Putting this into perspective, foster children only made up 0.15 percent of California's general population in 2010. Of that FCS population in prison, 26 percent say that they were homeless upon "aging out" of the FCS.
Children in foster care are also at high risk of drug abuse and lifelong addiction. Adding these addictions to economic realities creates a higher risk of being trafficked for sex or landing in the 'legal' porn and sex industry. Pimps and porn-producing predators are known to troll group homes for human capital. In 2010, a shocking 59 percent of minors arrested on prostitution charges in California were foster children — and in 2012, 58 percent of sexually trafficked girls were foster children (see previous link).
The California Senate Office of Research offers an account of one girl's struggle in the FCS:
April recalls the time when she was physically abused, when her hair was forcibly cut off by her stepmother, when she ran away from home, and when she turned to heroin for solace – all by the time she was 12. Her parents and the courts deemed her incorrigible, and she was in and out of foster care throughout her troubled teen years.

… In between the foster care homes were stops at juvenile halls, group homes, and a mental hospital. When she was living on the streets of San Francisco, April supported her growing drug habit by working in strip clubs, and eventually she turned to prostitution.

Whenever she was caught by the police, they would send her to juvenile hall and often to foster care homes … [M]uch of her early life is a blur, she says, but by her early thirties she found herself incarcerated at the California Institution for Women.
Many "consenting adults" are substantively coerced into pornography where women and men are fictitiously raped and brutalized for your First Amendment viewing pleasure (more context on the coercive nature of porn here). But there is a more troubling trend.
Currently, child sex-trafficking is one of the fastest growing businesses on the internet. Most of these children do not come from backgrounds of loving and protective families. Recent FBI raids cracking down on sex-trafficking have uncovered this chilling fact: 60 percent of children rescued were recruited from the FCS. "They are nobody's children, [so] they easily become anyone's children."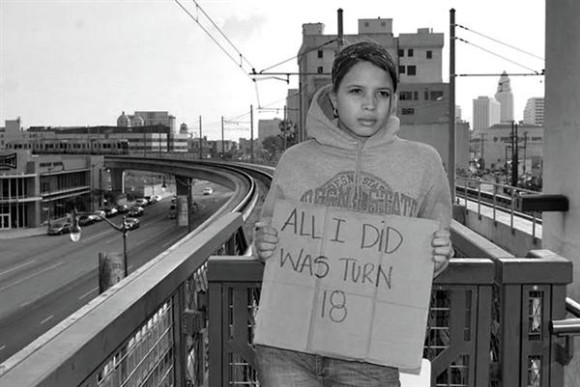 These are the insurmountable challenges that foster care children face in terms of their freedom, opportunity, and human dignity. The circumstances of these youth as they enter adulthood reflect an identity rooted in abuse and subjugation.
Too often in conservative circles the "boot-strap" analogy is used as justification for ongoing neglect of at-risk populations rather than an appeal to self-sufficiency. The individual freedom afforded those in more advantageous circumstances does not extend to the abused without effort.
One cannot stand for freedom on principle without working to protect the freedom and promote the self-sufficiency of others: individual freedom is not individual insulation. Insulation is revealed in statements like, "they brought it upon themselves" or "we just wish they would figure this whole Life thing out and leave our pocket books alone."
There is often no effort made to understand the genesis of social issues, but much energy spent in judging those associated with them. This mentality reduces the doctrine of freedom to a self-serving construct for those strong enough to maintain, exert and fulfill themselves economically and politically.
However, the reality of social issues is not an appeal for government intervention. When individuals willfully address social and moral issues, the propensity for government coercion is neutralized.
So what does this all mean for foster kids? As shown, many in and "aged out" of the FCS are at greater risk of objectification and control. Often their "parental figures" are pimping their bodies and using their economic and emotional disadvantages as leverage. At best, their parental figures or supporting organizations are offering shelter for financial incentives from the state.
In fact, state programs are actively creating victims by rewarding and incentivizing the Foster Care Industry. There are more entities profiting off of foster children than there are advocates representing them. Many of them are simply surviving, living off of the state or other systems that objectify them.
Advocating for these individuals means teaching them to be self-sufficient, which is at the heart of freedom and economic opportunity. Conservatism preaches self-sufficiency, but isn't accountable for learning outcomes. Learning outcomes cannot be achieved if individuals insulate themselves by withholding resources that would hedge against the odds these children face.
So the question is, can we be confident that talking about freedom is enough to secure freedom and opportunity for all? How do we address this issue using small government principles? Are we prepared to take action as individuals, or are we willing to ignore this problem and let Government fill the vacuum? If we are unwilling to take action, why are we preaching small government?
These are questions that we should earnestly ask ourselves. The answers are not simple. Approaches to these issues should be considered locally. We are uniquely qualified to serve our own communities and we are capable of doing much good. In small government ways, we can promote freedom for everyone.
Go on… Do a search on Google and find out what local organizations need. One good place to start is the CASA (Court Appointed Special Advocates) website.