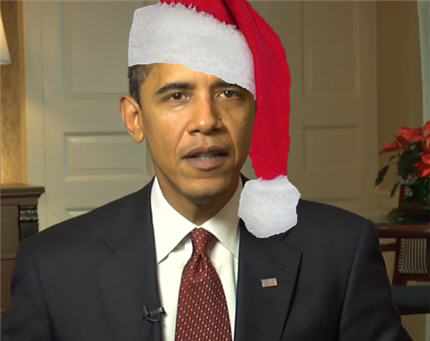 'Twas the night before Christmas, and all through the crib
Not a creature was stirring, not even OFA libs.
The onesies were hung by the chimney with care,
In hopes that Obama Claus soon would be there.
–
The 26 year old children were nestled all snug in their beds
While visions of free birth control danced in their heads.
And I in my Mom Jeans and Michelle in her sandals,
Had just settled our brains from a long year of scandals.
–
When out in the Rose Garden there arose such a clatter,
I stopped planning my next vacay to see what's the matter.
Away towards the portico I sauntered without care,
Opened the curtains, and out the window I did glare.
–
When what to my non-caring eyes I did see,
But an arrogant narcissist taking a selfie.
With a tall lanky driver so haughty talking smack,
I knew in a moment it must be St. Barack.
–
More vapid than celebrities his minions they came,
And he whistled and shouted and called them by name;
Now Boehlert, Now Jarrett! Now Podesta And Lerner!
On Clinton,  On Toure, On Matthews and Holder!
–
To the top of the barrycade! To the top of the wall!
Now spin away! Spin away! Spin away all!
As eagles that before the green initiatives did fly,
When met with a wind turbine blocking the sky.
–
So to the media lapdogs, the minions they flew
With a promise of favors, and some greased palms too…
And then in a mystery, I heard through the rafters,
You, number 44, are an unmitigated disaster.
–
As I drew in my ears, and was turning around
Down the chimney St. Barack came with a bound.
He was dressed in golfing attire from his head to his toes,
Not a care in the world, his critics the NSA knows.
–
A bundle of regulations he had flung on the desk,
A nuisance to the small business owner, he had become quite the pest.
His eyes, how they glimmered with arrogance and greed,
His legacy would be one of ruling by creed.
–
His droll little mouth was pursed like a duck,
The look he gave all of us was, "Who gives a f**k?"
The stump of a doobie, he held tight in his teeth
And the smoke it encircled his head like a wreath.
–
He had a pinched face and an childish demeanor,
If I didn't know any better, I'd think he was a tweener.
He was tall and kinda thin, like the Elf on a Shelf,
And I laughed when I saw him, in spite of myself.
–
With a flick of a pen, and the twist of his head,
Soon let me know that I had everything to dread;
He got straight to work, putting his pen to the paper
And after this round of mandates, the economy is sure to crater.
–
And laying his middle finger aside of his cheek,
I had a funny feeling that next year would be bleak.
Back up the chimney from whence he came,
Knowing full well he would never take the blame.
–
You see, his minions have toiled quite hard this past year,
Making sure nothing stuck to the leader that they hold so dear.
But I heard him exclaim, as I he drove down the road
"I've been in 56 states! I have one left to go!"