Politicians and ego (both male and female) go together like milk and cookies. Where there is one, you will likely find the other.
To be a citizen legislator or executive, regardless of the level, is meant to be one of public service wherein the public entrusts a person to represent them to the best of their abilities. Television, the Internet and social media have all changed the dynamic to one where the politicians spend a lot of time making sure the focus is them and not the duties they're entrusted with when elected.
The thirst for power and influence outweighs the millions of dollars many politicians could earn if they simply retired and moved on. For Presidents, whose terms are limited, they sometimes have to seek ways to remain relevant, particularly in their second term when lame duck status sets in and people start looking forward to the next election.
President Obama feeds off being the center of attention. What politicians often lack in leadership, they make up for in ego and President Obama has one that could fill Wembley Stadium. It takes a particular outlandish blend of narcissism and chutzpah to make oneself the center of attention when it comes to commemorating other people and/or events, and Obama has it like no other.
There are a number of occasions when this has happened. Remember the anniversary of Rosa Parks defiance in the face of segregation?
In a single moment 58 years ago today, Rosa Parks helped change this country. pic.twitter.com/C502SKfJnj

— Barack Obama (@BarackObama) December 1, 2013
The anniversary of the JFK assassination:
President Obama on President Kennedy and the American spirit —> http://t.co/04oGQiABZJ #JFK, pic.twitter.com/1irDH153L1

— The White House (@WhiteHouse) November 22, 2013
When Nelson Mandela died:
Rest in peace, Nelson Mandela. pic.twitter.com/4qlqsXLp6e

— The White House (@WhiteHouse) December 5, 2013
Following the horrific shooting of nine people by Dylann Roof, President Obama was invited to Emanuel African Methodist Episcopal Church, to delivery the eulogy for Rev. Clementa Pinckney, one of the nine victims and also one of the pastors of the church.
The President, never one to miss a chance to make something political, spoke of gun control but also delivered a stirring tribute to Pinckney, who not only served people at the church, but also as a state legislator.
It was at the end of the eulogy that President Obama did something that some described as "one of the most powerful moments in Presidential history." He launched into the song, 'Amazing Grace', one of the most beautiful hymns ever written. Twitter went haywire with a ton of tweets punctuated with "Wow" at the wonder of the moment.
Later that day and the next morning, the media was gaga over the the powerful, "spontaneous" moment where President Obama launched into song. From CNN:
Obama's words on grace especially — a core biblical concept — appeared to move him spontaneously to song. While this is very common among preachers in the black church tradition, it is less common for a President to break out in song mid-sermon.
From the LA Times:
President Obama's 'Amazing Grace' moment and the power of spontaneous song
There's only one problem: There was nothing spontaneous about it. President Obama planned on doing it the entire time. He even discussed it with Michelle and Valerie Jarrett:
President Obama's decision to sing "Amazing Grace" at the end of his eulogy for the Rev. Clementa Pinckney, a black pastor who was killed with eight others during Bible study in a Charleston, S.C., church last month, became one of the more memorable moments of his second term. But the idea raised at least some eyebrows when he first broached it with his closest confidants.

Mr. Obama was on the Marine One helicopter leaving the White House en route to Andrews Air Force Base for his flight to South Carolina when he mentioned the thought to Michelle Obama and Valerie Jarrett, their close friend and a White House senior adviser.

"When I get to the second part of referring to 'Amazing Grace,' I think I might sing," he told them, by Ms. Jarrett's account.

"Hmm," Ms. Jarrett recalled responding.

Mrs. Obama was a little more pointed. "Why on earth would that fit in?" she asked.

He tried to explain. "I don't know whether I'm going to do it," he said, according to Ms. Jarrett, "but I just wanted to warn you two that I might sing." He added, "We'll see how it feels at the time."
It is difficult to imagine a more crass and selfishly opportunistic thing to do. It would have been wise for the President to listen to his wife who obviously didn't think it was the right thing to do.
But narcissism won the day with Barack, just like it always does. And so he launched into the song, happy that so many people thought he was doing it spontaneously, when in fact, it was planned just as much as when he slow jammed the news with Jimmy Fallon.
The talking heads, journalists and pundits couldn't fall over themselves fast enough to heap praise upon the President for doing what he did and perhaps that praise might have been earned if the moment truly was spontaneous.
But it wasn't.
This is Clementa Pinckney.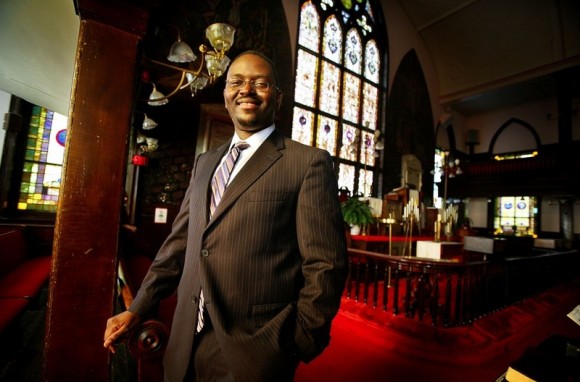 The eulogy was supposed to be about him. 
President Obama once again, without shame, made it about himself.