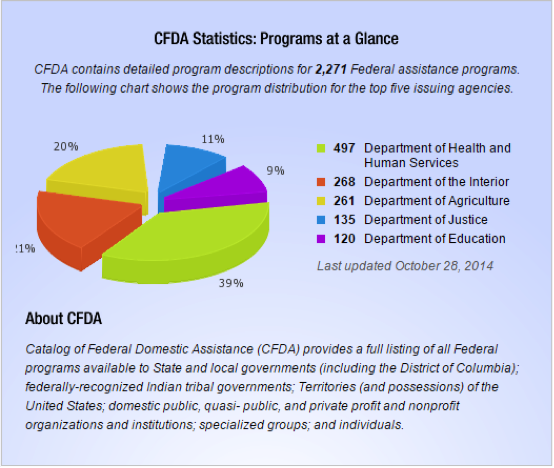 The federal government of the United States of America does not make money. It is not a for-profit business, nor is it a non-profit business or charity. The federal government takes taxes from individuals and businesses and uses those dollars to fund the activities mandated by the Constitution, to fund activities not mandated by the Constitution or to transfer that money to individuals, charities, non- and for-profit businesses and foreign countries. Federal government subsidies, called "Federal Domestic Assistance" take taxpayer money from the coffers and give dollars to "subsidize" or, to help someone or something pay for the costs of (something).
The top five federal agencies who distribute taxpayer money via subsidies are:
the Department of Health and Human Services (HHS),
the Department of the Interior,
the Department of Agriculture,
the Department of Justice and,
the Department of Education.
Right now, there is a call to end the "Sugar Program". Under this program, the federal government tries to control how much sugar can be sold in the country through price guarantees, marketing allotments that limit how much sugar processors can sell each year and import restrictions that reduce the amount of imports. The US federal government uses taxpayer money to manipulate the sugar market – and it's "legal" because the federal government said it is.
Subsidies must die a quick death, like in New Zealand, if we are to enjoy the fruits of our labor through the free market.
What does a subsidy look like? The Department of Agriculture, Office of Foreign Agricultural Service, using your tax dollars, funds the Scientific Cooperation Exchange Program with China which was created "To facilitate mutual cooperation in agricultural research, education, and extension between the United States and China." We, the United States, give taxpayer dollars to either go to China or bring Chinese people here to talk farming.
How is the money spent? Funds may be used for direct costs of conducting approved agricultural exchanges. Allowable expenses include travel for research, extension, training, and indirect costs associated with hosting Chinese Exchange Visitors.
What is happening now? Fiscal Year 2013: Hosted six (6) teams from China and deployed six (6) U.S. teams to China. Fiscal Year 2014: The Scientific Cooperation Exchange Program with China is expected to host eight (8) exchange teams from China and deploy eight (8) U.S. teams to China. Fiscal Year 2015: The Scientific Cooperation Exchange Program with China plans to host eight (8) exchange teams from China and deploy eight (8) U.S. teams to China. (So, we started with 6 teams and now we are up to 8.)
Who can ask for this money? U.S. Institutions of higher learning, and public and private nonprofit organizations whose primary purpose is agriculture, natural resources management and/or rural development (including those located in U.S. territories).
Who can receive the money? U.S. institutions from the public, private, and academia sectors.
How much taxpayer money have we spent for people to go to China or bring Chinese people here to tlak farming best practices? Average cost per participant is  $5,500. 

FY 13 $426,217
FY 14 est $297,250; and
FY 15 est $297,250.
Why does such a subsidy program exist? Why does the federal government make sure it gets involved?
Money.
"China is the largest international market for U.S. food and agricultural products, accounting for nearly 20 percent of all U.S. farm exports. U.S. ag exports to China reached a record $26.7 billion in fiscal year 2013, with top products including soybeans, wheat, cotton, corn and forestry products." – Fas.usda.gov
Another example of a subsidy is the Bioenergy Program for Advanced Biofuels, Advanced Biofuel Payments Program, again through the Department of Agriculture. The purpose of this program is to support and ensure an expanding production of Advanced Biofuels by providing payments to eligible advanced biofuel producers. The Advanced Biofuel Payment Program supposedly promotes sustainable economic development in rural America, and is an important part of achieving increased biofuel production. The Statute allows $15 million of Mandatory Funds and $20 million of Discretionary Funds. Producers must produce advance biofuel from sources other than corn kernel starch. The Statute allows $25 million of Discretionary Funds.
Sidenote: I have questions. A) Which is it, $20 million for Discretionary Funds, or $25 million? B) What's the difference between Mandatory funds and Discretionary funds? And C) Why are they "Mandatory"? Government speak is confusing.
Ironically, the database lists the amount spent on the program as "Program Accomplishments" as opposed to actual economic or environmental success.
Fiscal Year 2011; quarterly payments totaling $135.8 million to 214 producers
Fiscal Year 2012; quarterly payments totaling $35.1 million to 188 producers
Fiscal Year 2013; quarterly payments totaling $8.4 million to 210 producers (fourth quarter payments will be processed during fiscal year 2014).
If you got in on FY 2011, you could have received approximately $635,000 to produce biofuels. No word on if the production had to be useful or repeatable.
Citizens don't get to vote on subsidies. Our voice to the executive branch administrations is through our US Senator and US Representative. Only they have the ability to cut the amount of funding going to a particular administration or subsidy through the federal budget process or legislation. Given the willpower required, the fiscally conservative mindsets needed and Congress's willingness (or lack thereof) to anger their own constituents, it is almost infeasible to imagine a federal budget without subsidies.
This is the sprawl of the federal government.
This is what conservatives and libertarians rage against – the inability of the people to manage their own government because it is too big to handle. Encouraged by the President, unchecked by Congress and overwhelmingly ignored by the average voter, subsidies will continue to be the "other welfare program" that taxpayers fund with their hard earned dollars and get little, if anything, in return. Die, subsidies, die.