** UPDATE ** Chances are this came to our attention thanks in part to the totally awesome Nathan Wurtzel and his awesomeness. (JC)
New York City seems like an unusually bad place to be an anti-Semitic business. https://t.co/TWwx5HBnfa

— Nathan Wurtzel (@NathanWurtzel) July 24, 2014
–
With anti-Semitic rhetoric and hostility against Jewish people on the rise in Europe and abroad since the offensive in Gaza began, I was surprised to find that there is apparently no shortage of anti-semitism in my own backyard.
"A family of born and raised Brooklynites" that run a mobile cupcakery tweeted this about the conflict:
https://twitter.com/CupcakeCrewNYC/statuses/492084770558713856
And, just in case the tweet is deleted – a screenshot for posterity..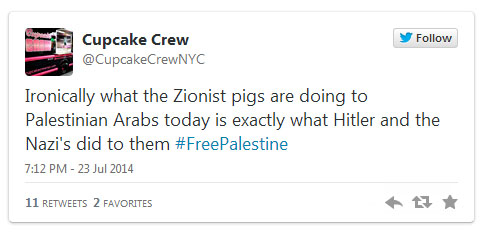 Exactly?!  Yes, I remember Hitler and Goebbels warning the Jews of an imminent attack, and that they should evacuate their neighborhoods.  Apparently someone has been reading Vox, or inhaling exhaust fumes – either, or.
The blame for what is happening in Gaza right now belongs to Hamas.  Breaking a brokered cease-fire.  Using innocent civilians as human shields.  Hiding rockets and weapons in schools.  Digging tunnels into Israel from heavily populated areas. Relentlessly firing rockets into Israel until Israel finally defends itself.  Ask yourself a question, if someone repeatedly punched you in the face, wouldn't you defend yourself with any means necessary – even if those means happen to be a blunt instrument?
Being curious, I let my fingers do the typing over to CupCakeCrew's Facebook page.   Considering the fact that New York's Jewish population steadily growing (Borough Park, Brooklyn identifies as 78% Jewish), it makes sense that they would advertise that they "specialize in bat mitzvah's and bar mitzvah's."
However, after tweeting that anti-Semitic garbage, they may want to take to social media and apologize profusely or they won't be specializing in anything for much longer.