Regarding the President's trip to Estonia, with all of the problems facing the region — Russia on the move in Ukraine, ISIS rewriting the map of the Middle East, Israel and HAMAS in an uneasy cease fire — the White House labeled Ann Compton's last trip as a reporter to be "historic." Journalists joined in.
It's hard to see this as anything but patronizing head-patting. Notice that the content of the question isn't discussed, only that it was "tough but fair."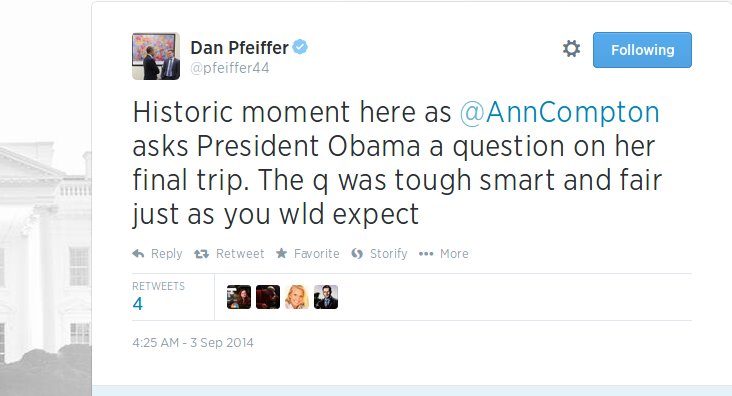 Historic moment here as @AnnCompton asks President

Obama a question on her final trip. The q was tough smart and fair just as you wld expect

— Dan Pfeiffer (@pfeiffer44) September 3, 2014
Several prominent newsies chimed in, giving the tweet a boost.
Now, that's not such a big deal, right? Giving someone you work with a sendoff as they retire is normal, everyday stuff.
But it's not "historic."
It's also unusual because these people all work for supposedly competing and adversarial entities.