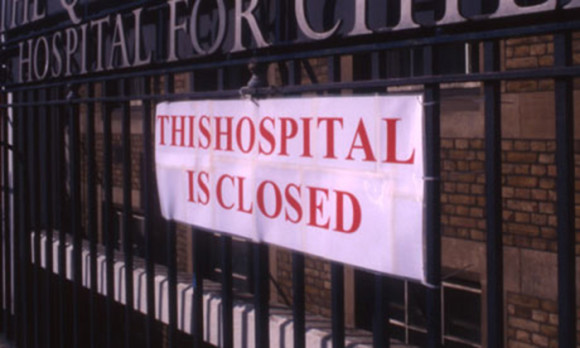 Hospital Desert: Coming soon to a neighborhood near you.
The latest stop on the Obamacare "Healthcare" train wreck are the hospital closures. Here are a few examples of what will soon be our new reality. First up, the bastion of liberal myopia, California:
The Affordable Care Act pushes health care providers to reduce costs and improve care quality, but some observers say the law's requirements are causing hospitals to sell their facilities or make other changes to stay in business, the San Jose Mercury News reports.

Calif. Hospitals Struggling

Experts say that ACA regulations will speed up the trend of moving care delivery from hospitals to less-expensive systems, like outpatient or surgical care centers.

Maribeth Shannon, a director at CHCF, said, "If hospitals cannot adapt and play under the new rules it will be a challenge for them to survive."

Several California hospitals have undergone recent changes that might have been related to the ACA's new requirements.

For example, UC- San Francisco's Benioff Children's Hospital and Children's Hospital in Oakland last week announced a merger in an effort to offer more services while saving costs.

Meanwhile, the not-for-profit Daughters of Charity Health System this month announced it will sell all six of its hospitals.

According to the Mercury News, the six hospitals are "safety-net" facilities, which tend to treat a disproportionate number of low-income individuals. Many health systems can no longer afford to operate such hospitals because Medicare and Medi-Cal reimbursement rates are so low, the Mercury News reports.
A quick internet search will give you an abundance of stories about hospital closures, mergers and hospitals being sold off due to Obamacare.  Just a bridge and tunnel away from my neck of the woods, New Jersey, has been merging hospitals like it's going out of style:
In just the past two years, Robert Wood Johnson University Hospital and Somerset Medical Center have announced plans to merge. Barnabas plans to serve as a consultant on the day-to-day operation of the state-owned University Hospital. Cooper Cancer Institute in Camden will partner with the nationally known MD Anderson Cancer Center of Houston.

The state health department is reviewing a request from Atlantic Health, the parent company for Morristown Medical Center, to buy Chilton Hospital in Pompton Plains. Prime Healthcare, a California-based for-profit hospital chain, has won bids to purchase five New Jersey hospitals and is awaiting state approval.

Hackensack University Medical Center and its investment partner, LHP Hospital Group, purchased Mountainside Hospital in Montclair.

One reason for the activity is revenue pressure. Hospitals are already receiving lower Medicare payments from the federal government.

The Affordable Care Act also changes the formula for how some hospitals are paid. Instead of a fee-for-service model, where hospitals and doctors are paid for each and every procedure, hospitals will be paid a certain amount per medical condition, providing them an incentive to keep the patient healthy and out of the hospital.
In case you were wondering, no this isn't just a "big city" issue…. Over in Alabama:
Citing Obamacare, the Infirmary Health System this afternoon announced it would close its Infirmary West Hospital on Girby Road by the end of the month.

"We made this decision after evaluating the utilization of the facility, the healthcare needs of the community served by Infirmary West and determining how we could better utilize our resources to improve and expand health services in this area of our community," Nix said in the statement. "The passage of the 'Affordable Care Act' (Healthcare Reform), challenges hospitals and health systems to re-evaluate how to best allocate their resources to serve the needs of our community."
We can't keep our current plan if we like it. We can't keep our doctors if we like them. We can't keep hospitals that are close to us. And, some medical professionals can't even keep their jobs.
What we can keep is all of this in mind when the polls open on Tuesday, November 4, 2014.