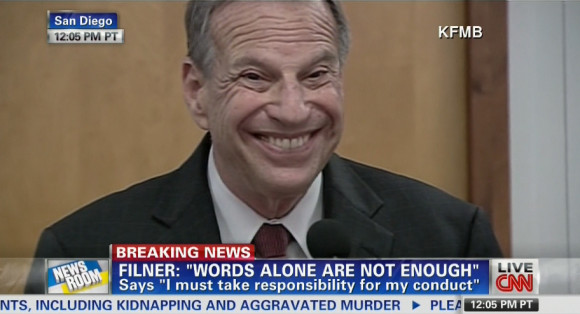 In a California courtroom today, former San Diego Mayor Bob Filner's plea agreement was accepted by Superior Court Judge Robert Trentacosta.
The plea agreement is the legal resolution to the the guilty plea, entered by Filner in October, to a single felony count of false imprisonment, and two misdemeanor counts of battery. Terms of the plea agreement call for Filner to be confined to house arrest, with electronic monitoring, for a period of 90 days, beginning January 1, 2014. Filner will also pay a fine of $1,500.00, and see a reduction in his pension. Following house arrest, The 71 year old will be on probation for a three year period, and will face jail time if he violates the terms and conditions of the deal. Filner, a Democrat, is prohibited from seeking elected office during his probation. Details were not available to know if any of the victims had sought restitution through the criminal court, but the judge indicated that any dealings with those issues would be handled at a separate hearing.
Filner offered a brief statement of apology to family, friends, staff, supporters (and he had some rabid ones), and "the women I've hurt and offended."
He pledged to work hard to regain the trust of the public.
Given the severity of his behavior, and the relative ease of the punitive measures, we assume he is sporting his trademark creepy grin today.